Draw your prettiest sunglasses: your feet are going to dazzle you this spring and summer season! Silver sandals, gold moulded gladiator shoes, holographic trainers… The metallic trend has been around for a few seasons and really isn't going anywhere, so prepare to shine and sparkle!
Gold, silver, bronze, holographic materials, aluminium, copper… when the sunny days come back, so does the metallic trend! Bright, sophisticated and ideal to highlight a tan, the metallic chic trend is a fail-safe for summer – in fact we guarantee this will still be the case in 20 years!
Just like every year, shoe racks are overflowing with metallic sandals, gladiators, trainers, derbies and other slip-ons. Futuristic cuts, disco ball texture, sleek silver, solid gold… There's some for every taste, from the most original to the most classic! Because when we say metallic trend we don't necessarily mean "feet shinier than a gigantic mirror ball": some matte, chromed or faded materials are very discreet and easy to wear in daily life, trust us.
---
Our favourite styles for the summer
Metallic derbies and pumps have long been around but this season we also welcome some newer styles: poolside slip-ons à la Birkenstock have popped up, followed by high gladiators, trainers drenched in gold or silver glitter platform brogues. You got it, this shoe season is not going to be boring.
Colour wise, remember there is not only gold and silver: soft colours like rose gold, copper and pewter are also allowed to shine. A great thing, seen as they can be paired with almost anything: denim, white, black, beige, cream, coral… pretty hard to get it wrong. And how stunning they look on a tanned skin!
---
The shopping
This year you'll find metallic shoes of all shapes and colours in your favourite high street shops and luxury makes. We've seen gorgeous minimalist sandals from Gianvito Rossi, pairs of dazzling Nike Air Max in Liquid Silver, and the famous Alexander Wang heeled loafers which we've seen on the feet of the most stylish fashionistas on the street (in different colours too!).
But because we got our hands on this really cool Clarks Promotional Code, we've made our own little selection of shiny shoes with a tiny price tag (and added Clarks comfort!). The nice thing is, they're totally up to date with trends, so follow that link and you'll find many different styles to suit all your metallic desires…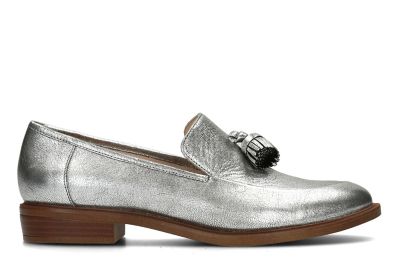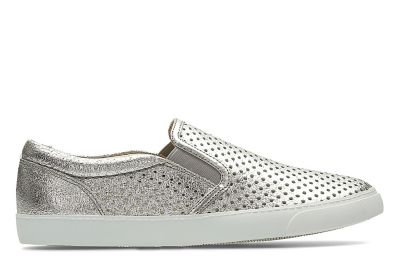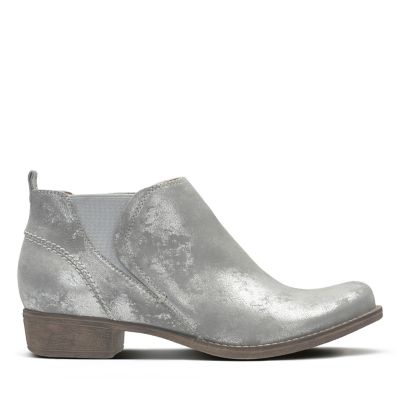 ---
Ok so what to wear with metallic shoes?
Just like glitter shoes or holographic shoes, metallic shoes are fun shoes that pair well with everything: Their colour is rather discreet, and they are actually a pretty reasonable eccentricity, right? They are perfect to bring some brightness to even the most basic of outfits, as a little funky touch that makes so much difference.
With the metallic shoe, you have a good amount of choice: go full-on with fun prints, original styles, heavy patterns and bright colours à la 90s seapunk (as long as it's intentional), or confine the craziness to your shoes and quiet things down with the rest of your outfit: simple colours, pared down cuts… The idea is to put your little beauties in centre stage!
This summer sees a few trends, among which the colour block paired with metal: silver goes surprisingly well with a yellow maxi dress, gold shoes complement a red outfit wonderfully… As a general matter, if you succumbed to the total colour block look, are already wearing a few primary colours and are hesitating with regards to what to wear with so many colours – silver and gold are bound to work!
A minimalist white look with a touch of metal is another winning combo: a dress with sandals, chino trousers with derbies, a skirt with trainers… It's chic, it's urban, and it works in the streets as well as it does in the club!
What more do we want?